The next Winter Classic is official: Philadelphia at Boston at Fenway Park!
Link Here, from the Boston Globe

I'm sure we'll cover this in-depth in the show, as we have been for quite some time, but the part we won't get to in the show is the part I want to discuss here: what will the jerseys be?

Part of this is a repost, some is new.

The Winter Classic is THE place for the NHL to introduce new throwback jerseys. The Pittsburgh Penguins adopted their throwback as a 3rd jersey because it sold so well, even though they only bothered to wear it 10 of the allowed 15 times this season because they played so horribly in it...just like the actual team that wore it. Buffalo brought back an updated version of their throwback logo for copyright reasons. Chicago is adopting their Winter Classic jersey (with the addition of shoulder patches), and Detroit wore their Winter Classic jersey for their last game against Chicago last season, leading me to believe that it might remain an unofficial 3rd jersey for the Wings - which would be a first for them.

The matchup will almost certainly be the Boston Bruins hosting the Philadelphia Flyers after the push NBC made to see them, so the teams are depicted as such. Considering that the Flyers are wearing their orange throwback 3rd jersey as their home jersey this season (something the Islanders weren't allowed to do), this would be the perfect opportunity for them to unveil the white throwback, which could be adopted as their away jersey next season. The big question is what the Bruins will wear. My hypothesis is that they will use a jersey already marketed as a sweater in the CCM Vintage collection just like the Red Wings, Penguins, and Sabres did previously. This jersey was seen from 1949-1955.



What I would love to see, however, is this matchup:


Those sweaters saw each other in 1929, The Philadelphia Quakers were a team that only lasted one season after moving from Pittsburgh; it was wiped out by the Great Depression. This first NHL team in Philly would be perfect outside on the ice at Fenway. On the other side, the sweater worn by greats such as Eddie Shore and Tiny Thompson when the Bruins won their first Stanley Cup in 1929. Since the Bruins have acknowledged that this horrible logo exists with their new updated secondary logo (which is awesome), what better time to use it? I really do hope the Bruins don the brown and gold, but I fear it's just a pipe dream.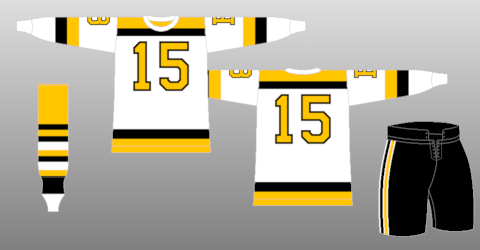 What I wouldn't mind seeing, not because it is something good for hockey, or a good idea for Reebok and Bettman to even consider, but because it would be something very different and downright nifty, would be the Bruins jerseys from 1940-48, better known as "the football sweaters". Would it not be interesting to see something completely different without them being radical RBK designs? Will it happen? No. What would the Flyers wear? It wouldn't be worth the effort, but it's an interesting, rather forgotten sweater from a great era in Bruins hockey (after all, Milt Schmidt wore these things!)